What is dogs PME™ (Physical & Mental Exercise)?
PME™ is developed by Dr. Penny Tai, DVM .  Maximum dog's physical and mental exercise via easy gaming exercise by dog's natural .It provides your dogs more aerobic exercise,  to gain mental and physical in balance, and also enhance the bond between you and your dogs.  PME™ gaming course is suitable for any owner with any dog in any ages, it's playful and full of fun, and exciting to both you and your dogs.
We should fulfill dog's needs not only on balance diet , but also mental balance. Most people haven't learned dog's behavior and make dog's life full of stress, or don't know how to socialize their dogs . This is the reason  why dogs have behavior problems, e.g. barking, anxiety, attention seeking, destructive furnitures, fight with other dogs and feeling nervous in a unfamiliar place….etc.
We have developed this fun games using few simple techniques to reduce their social frustration and release their stress.
Dog PME™ courses utilize dog's vision, smell and hearing sense by coordinating their body movement to achieve their maximum physical and mental satisfaction, simultaneously to reduce anxiety and social frustration , release their daily stress.
WHY PME™?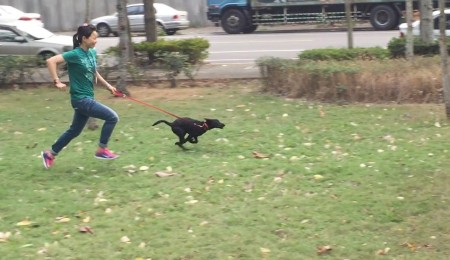 Most dogs suffer from behavior problems due to current city environment, e.g. loneliness barking, attention seeking behavior problems, destructive behavior problems, Acral Lick Dermatitis (ALD), Acral Lick Granuloma (ALG), weak bond to owner…etc.  Medication can't solve those problems completely , nor behavior modification do.They need a right brain exercise to fix those behavior problems.
Dogs need brain exercises more than physical exercises.  In comparing a 20 mins of PME™ to a 1.5 hour normal exercise, PME™ will activating both dogs' physical and mentally need in more healthy way.
PME™ will make you satisfied and also make your dog really happy.